Published: Wednesday, August 30, 2017 01:16 PM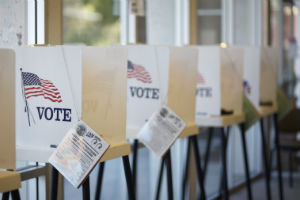 SPRINGFIELD – Senator Don Harmon (D-Oak Park) issued the following statement today after automatic voter registration was signed into law:

"I am pleased that automatic voter registration is now law in Illinois. This is a concept that benefits everyone. It saves the state money, it strengthens the integrity of the electoral system by cleaning up voter rolls and it makes it easier for Illinois residents to participate in the democratic process."

The new law establishes an automatic voter registration system in Illinois by July 1, 2018. Harmon was a chief co-sponsor of the measure, which passed the Senate on a vote of 48-0.

Qualified voters will be automatically registered to vote when they visit the Illinois Secretary of State and other state agencies for services. Voters can opt out of the system, and a series of checks will protect against fraud.

Illinois currently has an opt-in voter registration system in which adults who are 18 or older must find, fill out and submit a voter registration form to an appropriate government agency. Voters frequently forget to update their voter registrations when they move, change marital status or go to college, causing confusion at the polls and inaccuracies on the state's voter rolls.

Automatically registering voters when they do business with the state enables government to do away with redundant paperwork, streamline bureaucracy and be more cost effective for taxpayers.
Category: News