Published: Tuesday, April 19, 2016 11:23 AM
Dear friends,
As my legislative colleagues and I continue to look for opportunities to collaborate with the governor on budget solutions that support Illinois' working families, I also have been busy advancing legislation that benefits my constituents and Illinois.
As always, I encourage you to stay in touch. Should you have any questions, please contact my office at 708-848-2002.
Sincerely,
Senator Don Harmon
39th District – Illinois
Honored to be acknowledged by President Obama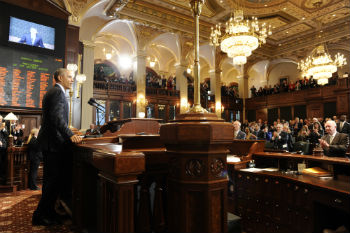 I was thrilled that President Barack Obama chose to address the General Assembly in Springfield in February. He delivered a magnificent speech to the Illinois General Assembly and offered a timely call for a better politics.
I also was honored that President Obama publicly acknowledged my efforts to bring same-day voter registration to Illinois. He noted Illinois' role as a progressive leader in the nation – championing matters of diversity, the working class and voting access – and challenged the state to keep it up.
"Thanks to the good work of my dear friend, Senator Don Harmon, and many of you, there's a new law going into effect this year that will allow Illinoisans to register and vote at the polls on Election Day," the president said. "It expands early voting – something that makes it a lot easier for working folks and busy parents to go vote."
I look forward to continuing to push for expanded voter access in Illinois and advocate for the progressive issues that are important to my constituents.
• Watch President Obama's address
Calling for moderation in labor talks
I am deeply concerned about the difficult contract negotiations between Gov. Bruce Rauner and the collective bargaining unit that represents nearly 40,000 state workers, particularly in light of the governor's past comments that he is willing to shut down the government to make a point with unions.
Therefore, I sponsored legislation that would allow the use of binding interest arbitration when the state and employees can't come to terms during collective bargaining.
Arbitration would force moderation by both sides during contract negotiations, and it would help to avert the possibility of a strike or lockout of state workers. Keeping them on the job is in the best interest of Illinois and the economy of the communities where they live, work and pay taxes.
This month the Senate approved House Bill 580, the arbitration bill, by a vote of 38-17. It already passed in the House and now goes to Gov. Rauner, who vetoed an identical version of the bill last year.
Arbitration, which would be optional under this proposal, already is available for use in negotiations between the state and police, firefighters and correctional officers. It also is used by local governments during labor negotiations.
Arbitration would not force any particular outcome during negotiations and would not cost the state a dime if it was available as a tool, contrary to misinformation being spread by opponents.
• Tell Gov. Rauner to sign HB 580
Disappointed MAP funding remains uncertain
I was among the Illinois senators who voted this month to override the governor's veto of funding for tuition assistance for college students.
The Senate voted 37-17 to give Gov. Rauner the authority to fund college grants through the Illinois Monetary Award Program. Unfortunately, the House failed to muster enough votes to override the veto.
More than 130,000 middle- and low-income college students in Illinois benefit from MAP grants, which help to cover the cost of tuition at community colleges and universities statewide. In my district alone, 2,362 students were awarded more than $6.7 million in MAP grants during the 2015 fiscal year.
The legislation, Senate Bill 2043, also would have authorized the governor to send money to Illinois community colleges.
I am disappointed and frustrated that Illinois students and their families continue to find themselves caught in the middle of a prolonged state budget stalemate that is causing Illinois' higher education network to unravel. They have not been forgotten, and I will continue to search for opportunities to support them and their educational pursuits.
• Read more about the override vote
Working to expand voting access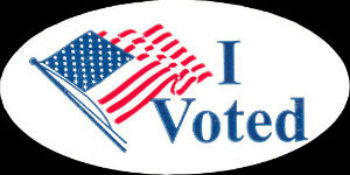 I am proud to continue my record of expanding access to voting by supporting legislation to bring automatic voter registration to Illinois.
I am a co-sponsor of Senate Bill 2134, which would enable Illinois residents to automatically register to vote when they apply for, update or renew a driver's license or state ID. Under current state law, residents who wish to register to vote while they renew their licenses at the DMV must fill out separate, duplicative paperwork.
The proposal would allow Illinois to streamline and simplify voter registration. It also would bring cost savings to state and local government, improve access to voting and improve the accuracy of Illinois' voter rolls. Oregon and California have enacted similar automatic voter registration laws.
• Read more about automatic voter registration
• Watch as I discuss the benefits of automatic voter registration
Promoting environmental stewardship
Scientists have established a troubling link between the collapse of honey bee populations and the use of some pesticides. Illinois can set a strong example for other states by barring the use of certain insecticides on state-owned land.
I am sponsoring legislation called the Saving Illinois Pollinators Act, which would prohibit the use of neonicotinoid insecticides on any public lands owned or maintained by the state of Illinois.
The proposal requires the Illinois Department of Agriculture to research the use of these insecticides in Illinois and report the findings to the governor and the legislature.
Honey bees are integral to the environment because they pollinate plants. Many scientists believe neonicotinoid insecticides kill and destroy the nervous system of bees.
The legislation is Senate Bill 2965.
Pleased to be a champion of democracy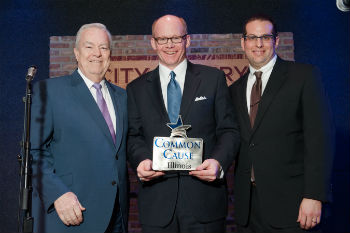 I also was honored to be named a 2016 champion of democracy by Common Cause Illinois in February.
The award recognized my advocacy on behalf of early childhood education, government oversight and ethics and expanded voting access. Common Cause noted my efforts to bring same-day voter registration to Illinois, as well as online voter registration and an expanded early voting period.
The more we do to include people in our democracy, to include people in our decision making, the better decisions we'll make. It is vitally important that we make government more accountable, more transparent and – I think most importantly – less responsive to big money.
We are better off as a democracy when the field is level, when everyone's voice is heard, when no one's voice is so amplified that it drowns out everybody else's voice.
• Watch my video interview with Common Cause
• Visit the Common Cause website
Category: E-Newsletters