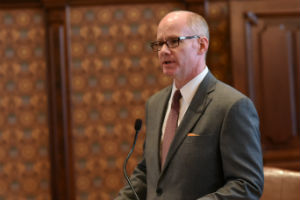 SPRINGFIELD – Legislation providing access to medical alternatives to opioids as a means to combat the opioid crisis is headed to Gov. Bruce Rauner's desk.

Senator Don Harmon (D-Oak Park) passed the Alternatives to Opioids Act out of the Senate in April and worked closely with the Department of Public Health and the House sponsor to address any concerns before bringing it for a final vote today.

The measure creates a pilot program allowing individuals over the age of 21 with any condition for which opioids might be prescribed to apply for temporary access to the state's medical cannabis program.

"Opioid addiction takes the lives of thousands of Illinoisans every year," Harmon said. "We should be open to any reasonable alternative treatment – and no one has ever died of a cannabis overdose."

Under the program, patients will obtain a physician's certification that they have a condition for which an opioid could be prescribed. They may then take that to a dispensary to receive medical cannabis for a fixed period of time.

To help clean up the backlog of applications for the full medical cannabis program at the Department of Public Health, the measure also allows anyone with a qualifying condition for the medical cannabis program to take physician certification to a dispensary to receive cannabis on a provisional basis while their application is processed.

A study conducted by the Centers for Disease Control last year found that a patient can become addicted to opioids within a week or even a few days of use.

"It's imperative that we give people the immediate option to pursue an alternative treatment to opioids," Harmon said. "Opioid dependence can develop quickly and has devastating effects."

Senate Bill 336 passed both the House and Senate with bipartisan support and now awaits the governor's signature.