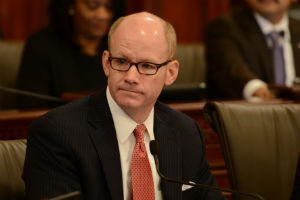 SPRINGFIELD – Senator Don Harmon (D-Oak Park) plans to introduce a measure aimed at tackling the opioid crisis by providing medical alternatives to prescription painkillers.

The Alternatives to Opioids Act would allow people who have been prescribed opioids for a medical condition to apply for a temporary medical cannabis card instead. Harmon plans to introduce the legislation during the second week of the Illinois Senate's veto session.
"Research shows that as the number of opioids prescribed has risen over the past few decades, so has opioid addiction, overdose and death," Harmon said. "This is a crisis, and it is rapidly getting worse. Research has also shown that medical cannabis is a safe alternative treatment for the same conditions for which opioids are prescribed."
Concern over the opioid epidemic is growing, as more than 60,000 people died of a drug overdose in 2016, more than the total number of U.S. soldiers killed in the Vietnam War. In Illinois, the opioid-related death rate increased 120 percent from 2014 to 2015, according to the Center for Disease Control and Prevention.
"Clearly what we're doing now is not working," Harmon said. "This is a problem that touches citizens in every corner of our state. Medical cannabis is the most readily available alternative, but we should consider any other option that reduces the carnage inflicted by the opioid epidemic."
Illinois created the Compassionate Use of Medical Cannabis Pilot Program in 2013 and is one of 29 states to have legalized medical marijuana.