Published: Tuesday, March 28, 2017 07:15 PM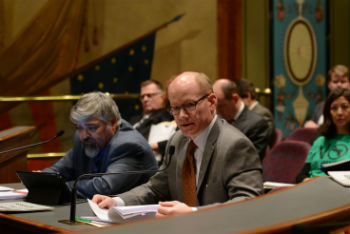 Illinois requires less accountability to be a gun dealer than a dog groomer, Senator Don Harmon said Tuesday while defending a commonsense proposal to license gun dealers at the state level in an effort to curb Chicago violence.
Harmon's Senate Bill 1657 would allow Illinois to license gun dealers and encourage better business practices while holding corrupt dealers accountable as authorities try to get a handle on the violence epidemic that continues to plague Chicago neighborhoods. Gun dealers also must be licensed by federal authorities.
The proposal passed out of the Senate's Judiciary Committee Tuesday in a 7-5 vote after a great deal of debate about whose responsibility it is to monitor gun dealers and find solutions to gun violence.
"Gun violence in Chicago is a huge problem. For people to sit around in the Capitol and say, 'Let someone else take care of it and enforce the laws on the books,' is incredibly frustrating," said Harmon, an Oak Park Democrat. "Twenty-six other states license gun dealers. This is not breaking new ground. It's a modest proposal. It's harder to be a dog groomer or a hair stylist in Illinois."
Senate Bill 1657 would establish two types of licenses: dealer and dealership. A dealer would be any person engaged in the business of selling, leasing or otherwise transferring firearms; a dealership would be a person, firm, corporation or other legal entity that does the same.
Applicants for each license would have to meet a series of requirements before receiving a state license. Violating the terms of the license can resulting in penalties.
The legislation also would establish a gun dealer licensing board to recommend policies, procedures and rules under the Illinois Department of Financial and Professional Regulation, which would license gun dealers.
"I want to be clear: There is no evidence that the gun violence problem is being caused by law-abiding gun owners. We need to focus on the real problem, which is illegal guns getting into the wrong hands," Harmon said. "Somewhere between a gun manufacturer and a crime scene is a person who is pretending to be a law-abiding gun owner but is not. That is the problem this legislation seeks to address.
"Senate Bill 1657 does nothing more than impose industry standards for best practices that should be observed by every gun dealer already but unfortunately aren't."
A recent study showed that 40 percent of guns used in crimes between 2009 and 2014 came from Illinois and that nearly 17 percent – or roughly 3,000 – of all guns used in crimes in Chicago were sold by just three of the Illinois' more than 2,400 gun dealers. All three are near Chicago.
The Gun Dealer Licensing Act would sunset on Jan. 1, 2027, under Senate Bill 1657.
Category: News